Introducing the "Starry Sky Photo Tour" by pro
fessional photographers living in Miyakojima.
We grasp the arrangement of stars that change depending on the seas
on and time, and propose them in the best direction and location, as we
ll as shooting methods at that time.
You can meet a nice piece of your own.
Photographer Profile
Photographer Profile
We accept reservations on t
he official LINE account!
For reservations and inquiries, please contact your preferred photographer.
Please let us know the date and time you would like to make a reservation.We will send you an estimate within 24 hours.
After confirming your quote, your reply and the reservation form will be filled out to complete your reservation.
Budget car rental Miyako airport
store customers only
POINT.1

We will guide you to the starry sky photo tour price at a discount!

POINT.2

A safe service that can guide the shooting point by car navigation system!
Starry Sky Photo Tour Plan Rates
Starry PLAN


Starry Plan

● 20-30 minutes (depending on weather)
● 10 sheets of handout data

One adult 5,000yen


(including tax)
Family PLAN


Family Plan

● 20-30 minutes (depending on weather)
● 10 sheets of handout data

* Only if there is no individual shooting
* 16 years old or older is the same amount as one adult

Family (2 adults and chil
dren)12,000yen


(including tax)
Private PLAN


Private Plan

● Approximately 1 hour (depending on weather)
● 30 sheets of hand-delivered data
● Several shooting points
● Shooting with multiple lenses

One adult15,000yen


(including tax)
* Family PLAN will correspond only to the group photo of the whole family.Children 16 years and older will be charged the same price as one adult.In addition, in the case of individual shooting per person, it will be a Starry PLAN fee.
2021 Shooting Schedule
There is a schedule that it is not possible to take a starry sky photograph by the influence of the moon.
Please check against the schedule of your trip.
Click on the calendar below to open the PDF data.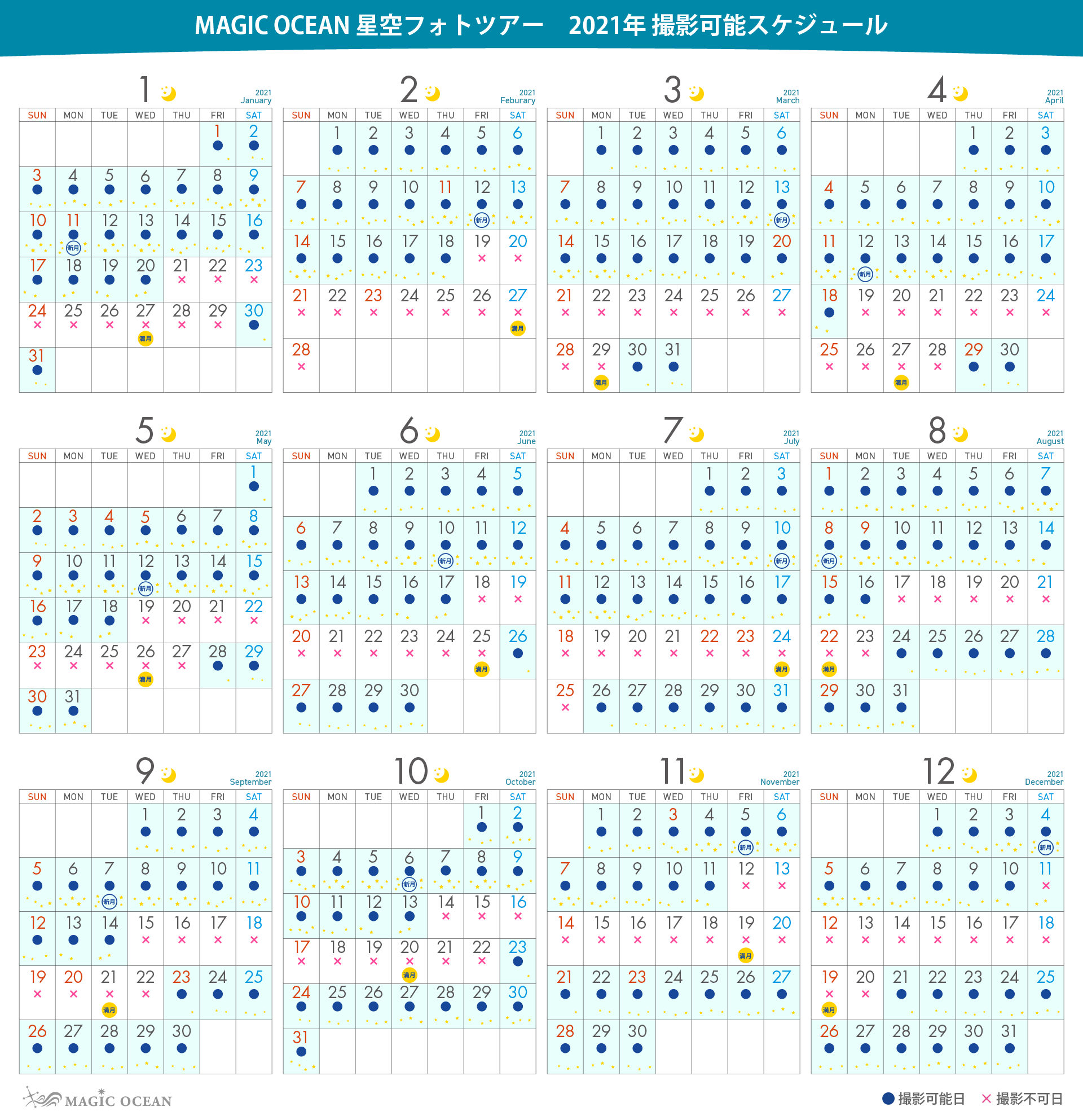 *

●

day will be a schedule that can be taken. (The schedule of the start of shooting will change every day.)As soon as the reservation is filled, the reception will be closed, so please contact us directly via LINE.)
*

X

schedule is a schedule that can not be taken starry sky due to the influence of the moon.
* Please feel free to contact us for information on shooting other than starry sky photo tours even on

X

dates.
* Other details, notes, etc. are described on the timeline after registering line official account, so please see by all means.